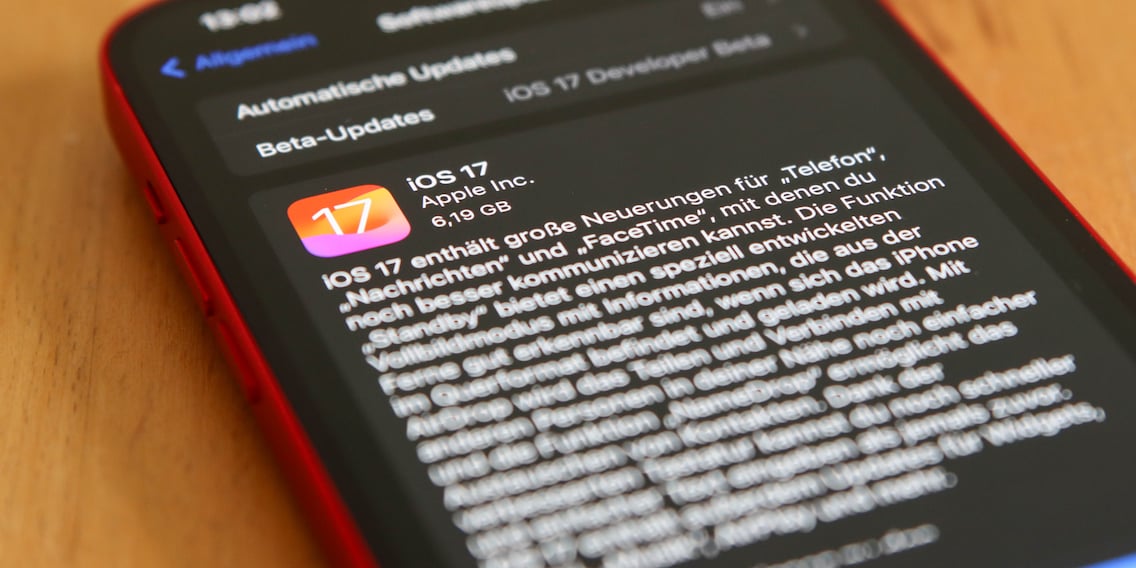 iOS 17 is ready and available for download: the most important new functions

Translation:
machine translated
Apple has released the final version of iOS 17 for installation. The operating system update brings some exciting new features to your iPhone.
Optically, iOS 17 does not bring any noticeable changes, but a number of new functions. Some of the changes are rather small, while others are even bigger. The latter category includes standby mode and NameDrop, for example.
The new functions
Apple first unveiled iOS 17 at its developer conference WWDC in June. In the months that followed, several beta versions appeared that allowed a preview of the innovations.
But that is by no means all. Apple Maps can take charging stations for e-cars into account in the routing. Facetime gets an answering machine for video messages and the widgets become more interactive. You can use them to directly control music playback or lighting, for example. . iMessage gets a bigger bouquet of innovations:
Filters in the search .- Check-in lets others share your way home .- Show voice messages as text (English only for now)

Swipe right on any message to reply .- New menu for the iMessage apps .- all stickers in one place (Sticker Box, sync via iCloud with other devices) .- Create stickers from your own photos and animated ones from Live Photos .- Soften sensitive content (especially nudity) on incoming messages .

It's not just when writing messages that you can undo autocorrect and save your own spelling. You can now do this whenever you use the keyboard.
With Shareplay, you can sync music playback on two iPhones by holding them together during NameDrop. AirDrop now continues a transfer even if the two iPhones are too far apart. Prerequisite: Both must be logged into iCloud.
Siri now already responds to "Siri". You can save the "Hey" to activate the voice assistant. It can also understand the context of the previous conversation. This means you don't have to tell it all the information every time.
In Siri, you can now use your voice assistant.
In Safari you can create different profiles for tab groups, favourites, extensions, history and cookies. For example, you could use this to separate your private and business browsing.
Safari has a number of different profiles.
Apple Health gets new features for mental health and vision.
If you take a lot of photos of dogs and/or cats, the Photos app should now help you sort them. Facial recognition is supposed to sort the four-legged friends into albums.
And that's a long time coming.
And that's far from all. Apple has posted an even more detailed overview online.
Waiting for Live Voicemail and Journal
Not all of the new features announced in June are available right at the launch of iOS 17. Partly it's because of the language, as with Live Voicemail. The instant transcription and display of messages on your voicemail only works in English for now.
Apple's new Daybook feature is available right from the launch of iOS 17.
Apple's new diary app Journal, on the other hand, is completely postponed. However, it is supposed to be released this year. Probably with the update to iOS 17.1 or 17.2.
For these iPhones iOS 17
will be released. All iPhones from the iPhone XS onwards can be updated to iOS 17. Specifically, this means the following models:
iPhone XS / XS Max
iPhone XR
iPhone SE (2nd and 3rd generation)
iPhone 11 / 11 Pro / 11 Pro Max
iPhone 12 / 12 mini / 12 Pro / 12 Pro Max
iPhone 13 / 13 mini / 13 Pro / 13 Pro Max
iPhone 14 / 14 Plus / 14 Pro / 14 Pro Max
Apple ships the iPhone 15 directly with iOS 17.
Importantly, there are some functions that are not available for all iPhones with iOS 17. According to Apple, the reason for this is either missing components or the performance of the chipset. For example, you can only add AR effects with hand gestures in selfie videos from the iPhone 12. The same applies to the "Show and Talk" function. It is intended to simplify interactions with labelled objects for people with limited vision.
Titelfoto: Jan Johannsen
---



As a primary school pupil, I used to sit in a friend's living room with many of my classmates to play the Super NES. Now I get my hands on the latest technology and test it for you. In recent years at Curved, Computer Bild and Netzwelt, now at Digitec and Galaxus. 
---