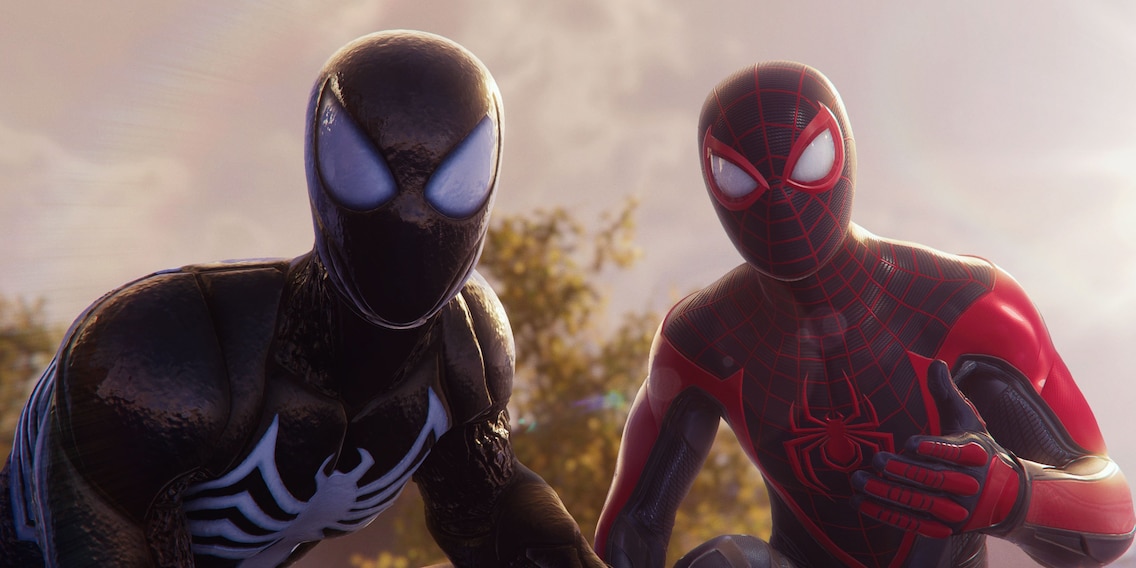 Sony shows Playstation handheld, Earbuds and "Spider-Man 2"

Translation:
machine translated
In addition to the game highlights "Spider-Man 2", "Alan Wake 2" and "Assassin's Creed Mirage", Sony officially unveiled the new handheld Project Q at the Playstation Showcase.
On Wednesday evening there were fireworks for Playstation fans. Sony presented over two dozen games in a livestream. On top of that, the leaked handheld Project Q was officially presented. A device to stream Playstation 5 games. Sony also had new Earbuds in its luggage.
Here are all the trailers and news from yesterday's Playstation Showcase.
"Fairgame"
The first trailer of the evening didn't feature any gameplay, but it did feature an interesting CGI trailer. In this futuristic live service game, muggings with friends are on the agenda. The game is being developed by Haven Studios, which is headed by Jade Raymond . She was previously under contract at Google Stadia.
No date yet.
"Hell Divers 2"
The surprising sequel to a popular indie co-op shooter. As a Space Marine, you fight hordes of aliens in a squad. Instead of a bird's eye view, you fight from a third-person perspective. In terms of content and humour, it is strongly reminiscent of "Starship Troopers".
To be released in 2023 for PC and PS5.
"Immortals of Aveum"
From EA comes a fast-paced first-person magic ballgame in the style of "Doom". Instead of hell monsters, there is a fantasy setting including space dragons.
To be released on 20 July 2023 for PC, PS5, Xbox Series.
"Ghost Runner 2"
Am I looking at a sci-fi foofracing game here? Not exactly. It's "Ghost Runner 2," in which you play a cyber ninja who spectacularly shimmies through a dystopian world, quartering enemies.
"Phantom Blade"
A dark fantasy role-playing game with samurai, creepy characters and frantic sword action that made me sweat just watching.
No date yet.
"Sword of The Sea"
Goosebumps. The meditative sand-surfing game "Journey" gets a spiritual successor in "Sword of The Sea". I'm pumped.
No date yet.
"The Talos Principle 2"
A puzzle game set in a futuristic world where you solve tricky puzzles as a robot. If you like Portal or have played the first part, you know what to expect.
Releases in 2023 for PC and PS5.
"Neva"
An enchanting indie game from the makers of "Gris". You play a white-haired lady who loses her magical wolf-deer to mysterious black creatures . To be released in 2024.
"Cat Quest Pirates of the Purribean"
"Cat Quest" is a cuddly role-playing game series where you go on grand adventures with cats in a fantasy setting.
Releases in 2024 for PC and PS5.
"Foamstars"
Square Enix belongs to a Playstation event like the amen in the church. Here they had a counterpart to "Splatoon" in their luggage. Instead of squid aliens shooting ink, there are fluffy foam clouds and hip surfers. It's about time someone copied Nintendo's brightly coloured multiplayer shooter.
Releases for PS4 and PS5. No date.
"The Plucky Squire"
The next cuddly indie game looks like a picture book until it switches to a 3D game world in a child's room. Has long been on my wishlist and belongs on yours too.
Releases for PS4, PS5, Xbox One, Xbox Series, PC and Switch.
"Teardown"
Long a hit on PC, the game with the most beautiful block explosions is coming soon to Playstation. In the campaign, you plan raids with a time limit and destroy entire levels in the process. In addition, there is countless content from the community that will hopefully find its way to the PS5.
To be released for the PS5 in 2023. Already available for PC.
"Metal Gear Solid Delta: Snake Eater"
A game I've been meaning to catch up with for ages is getting an official remake. What many consider the best and most whacky "Metal Gear Solid" is being remade for.
Without date. Coming out for PC, PS5 and Xbox Series.
"Towers of Aghasba"
A prehistoric third-person action game with an imaginative world, with giant turtles and flying cleaning fish. At the same time, it's a city builder. Looks exciting.
Without date
"Final Fantasy XVI"
Square Enix for the Second. The medieval fantasy action role-playing game with magic, dragons and giant monsters that you can apparently control yourself. Colleague Kevin Hofer is certainly not the only one who is already excited.
Releases on 22 June for the PS5.
"Alan Wake 2"
The long-awaited sequel to one of my all-time favourite games. The creepy survival mystery game about horror author Alan Wake continues. In the trailer, however, not only the hack is a playable character, but also an FBI agent. Together they try to defeat the mysterious darkness once and for all.
Releases in October for PC, PS5, Xbox Series.
"Assassin's Creed Mirage"
The first trailer for the next "Assassin's Creed", which will again follow more the formula of the first parts. Say, more sneaking, less open-world role-playing.
Releases on 12 October for PC, PS5, PS4, Xbox One, Xbox Series.
"Revenant Hill"
Continuation from the same developers who worked on the adventure game "Night in the Woods" . No date yet.
"Granblue Fantasy: Relink"
Colourful action adventure with numerous heroines and heroes who are not stingy with snappy sayings.
Releases in 2023 for PC, PS4 and PS5.
"Street Fighter VI"
The brawling game is coming out soon, and there was a new trailer to go with it.
Out on 2 June for PC, PS5 and Xbox Series.
"Ultros"
In this indie game, you fight your way through a colourful LSD world full of weird monsters . Without date
"Tower of Fantasy"
Furious action, flying robot sharks, dreamlike underwater world and battle suits. This game seems to have it all. Already exists on various platforms. I've even installed it, should I ever get around to playing.
To be released this summer for PS5. Already available for PC and mobile.
"Dragon's Dogma 2"
One of the biggest role-playing game secret tips, so that it is almost no longer an insider tip. In the first part, the epic boss fights stood out. It seems that they will be back again.
Without date.
Without date.
"Five Nights at Freddy's: Help Wanted 2"
Another instalment in the jump-scare series for virtual reality.
To be released at the end of the year for PS VR2.
"Resident Evil 4 VR"
Towards the end of the presentation, there was the trailer for the upcoming VR version of "Resident Evil 4". The mod is supposed to be free if you own the main game.
Without a date.
"Arizona Sunshine 2"
The sequel to the zombie shooting gallery game.
Releases in 2023 for PS VR 2 and PC VR.
"Synapse"
In "Synapse", you shoot with one hand while flinging objects at your enemies with the other thanks to telekinesis . Releases on 4 July for PS VR2.
"Beat Saber"
I welcome any reason to play "Beat Saber" again. That's where this "Queen" music add-on comes in handy.
Available for PC-VR, PS VR2, Oculus.
"Marathon"
While only a CGI trailer, it's an interesting setting presented by Bungie. In a colourful, futuristic world, people who look like crash-test dummies fight each other. Supposed to be a multiplayer extraction shooter.
Without a date.
"Destiny 2 The Final Shape"
The eighth expansion brings back actor Nathan Fillion as Cayde-6.
Without date.
"Concord"
There is absolutely nothing to see in this trailer. I had to read in the description that it is a multiplayer ergoshooter.
To be released in 2024 for PC and PS5.
Project Q and Playstation Earbuds
An 8-inch display and the ability to stream games via wifi from the PS5. That's Project Q, Sony's new handheld. At the same time, Sony has unveiled Earbuds that are supposed to offer lossless sound and low latency, thanks to new audio technology.
The new handhelds will be available at the end of 2011.
To be released at the end of the year.
"Spider-Man 2"
As expected, the highlight followed at the end of the show. In "Spider-Man 2" you play both Miles Morales and Peter Parker with his new symbiotic suit. The trailer shows how you can switch back and forth between the two. Peter's tentacle attacks remind me of "Protoype", if anyone remembers that.
The new villain Kraven the Hunter was also introduced. There was also a spectacular chase across the sea. Miles is even more agile thanks to his wingsuit upgrade. There were also sneak passages, although they were the most annoying thing about the last part. Fortunately, they seem to be optional and you can just solve on them if you're one of the gross motorists like me.
Takes place in autumn 2023 for PS5.
---



Being the game and gadget geek that I am, working at digitec and Galaxus makes me feel like a kid in a candy shop – but it does take its toll on my wallet. I enjoy tinkering with my PC in Tim Taylor fashion and talking about games on my podcast http://www.onemorelevel.ch. To satisfy my need for speed, I get on my full suspension mountain bike and set out to find some nice trails. My thirst for culture is quenched by deep conversations over a couple of cold ones at the mostly frustrating games of FC Winterthur. 
---